SCWDC: Colorado 10th Mountain Hut to Hut Backcountry Skiing
---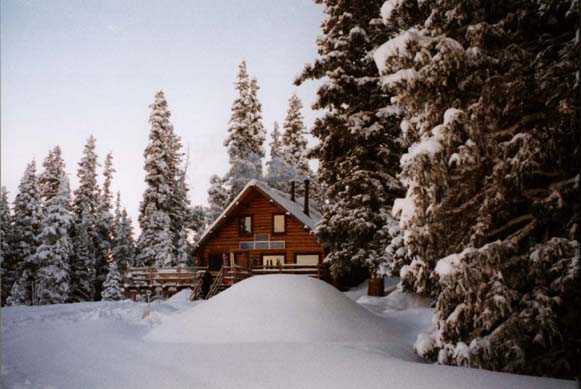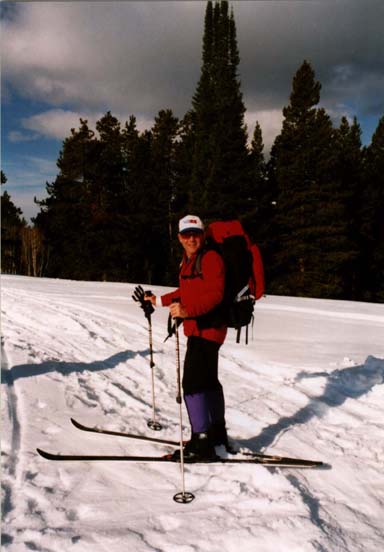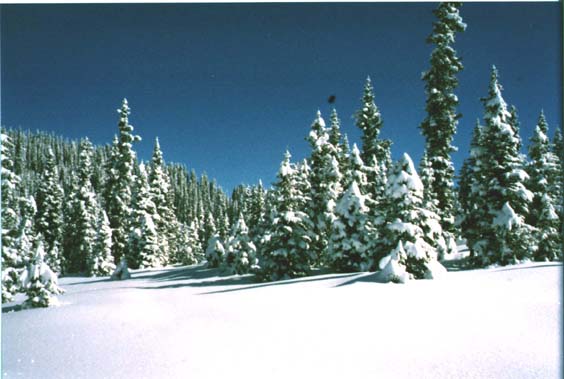 Photos Copyright
Copyright 1999, by Ted Fryberger, All Rights Reserved
Last Webpage Update: 1/27/99
Dates:
February 27 to March 7, 1999

Location:
Hunter Fryingpan Wilderness, Colorado, 10th Mountain Hut System, Northeast of Aspen

Estimated cost:
$735.00+ (airfare may be $88 higher with less than 10 participants)
---
Participant Requirements

Trip participants must be in good physical condition. You should be able to ski all day (8 to 10 miles) with a full pack (35 to 55 lbs.). Terrain will include up to 2500' of elevation gain and loss on some days. The snow could be deep and we could have blizzard conditions. This trip is best suited for experienced, fit backpackers who are also intermediate cross country/backcountry skiers.
At a minimum, you must be able to ski all day with a full pack both uphill and downhill. You must be able to do a snowplow stop and a wedge turn (snowplow turn). Telemark skiing ability is not required, although that will be an option on the layover day. All trails to and from the huts are for intermediate cross country / backcountry skiers with little or no avalanche danger. Downhill skiing ability does not count, but it does help.
---
Ski Equipment Requirements

Everyone must use either backcountry or telemark ski equipment. Light cross country touring gear is not sufficient or appropriate for this type of trip. If you do not have this gear currently, we have made arrangements to rent the appropriate gear at an outfitter in Aspen. You will need: backcountry or telemark skis, heavy weight backcountry boots, heavier poles, and climbing skins. The estimated cost to rent all of this for the trip is approximately $100.00 per person and is not included in the trip price.
So what are climbing skins? They're not social climbing RedSkins fans, they're synthetic "skins" that you put on the bottom of your skis when you want to climb a hill. They slide in one direction only, and make it relatively easy to climb hills. You will do very little, if any, herringbone or sidestep while wearing climbing skins. As we will be doing as much uphill as downhill, the skins are required.
---
Trip Description

Drive our car to the end which is the Norrie Trailhead, and ride the shuttle back to the start. Hunter Creek trailhead is the starting point just northeast of Aspen. From there we will ski 5.7 miles to the McNamara Hut, gaining 1980' of elevation. The McNamara Hut is at 10,360'. If time and conditions allow, we may do a short half day ski near the hut. The next day we will ski 8.2 miles to Margy's Hut, gaining 940' for an altitude of 11,300'. We have a layover day at this hut which allows us to do some exploring, and possibly telemark skiing. We may split into two groups for this one day: a touring group, and a telemark group. On the last day we will ski out to the Norrie trailhead. This would be a 7.6 mile ski with a loss of 2860'. Drive from Norrie back to the hotel.
After the hut trip, we have two additional days to do with as we please. I plan on doing some downhill skiing in the area. Other options include: cross country skiing, backcountry skiing into another area just for a day trip, shopping, loafing, etc.

---
Trip Itinerary
Trip Dates: 2/27 to 3/7/99
Saturday 2/27
Fly to Denver, pick up rental cars, pick up rental ski gear, & check into motel
Test rental gear if time allows
Sunday 2/28
Possible open day: test rental gear, or do some downhill or cross country skiing
Monday 3/1
Drive to the end & ride the shuttle van back to the start.
Start hut trip, ski from the Hunter Creek trailhead to the McNamara Hut
Ski around the hut if time allows
Tuesday 3/2
Ski from McNamara Hut to Margy's Hut
Wednesday 3/3
Layover day at Margy's Hut, explore the area
Thursday 3/4
Ski from Margy's Hut to the exit trailhead, drive our car to the motel
Friday 3/5
Open day: downhill or cross country skiing, shopping, loafing, etc.
Saturday 3/6
Open day: downhill or cross country skiing, shopping, loafing, etc.
Sunday 3/7
---
Navigation

These trails are poorly marked by design. They all go through wilderness areas which are not easily accessible. Trails are marked by blue plastic diamonds that are approximately 4"x6". Last year when skiing into the Harry Gates and Peter Estin huts I saw about six trail markers in four days. Even the guide books say that you cannot depend solely on the trail markers.
This trip requires good map and compass navigation skills. Just like last year, I will be doing extensive pretrip navigation to work out compass bearings and distances. These will be supplied to everyone in case we become separated. We will be skiing as a group for the entire trip, with the possible exception of the layover day. I will also have the trip programmed into my GPS receiver as a backup or for bad weather. If anyone else has a GPS receiver, altimeter, or a ham radio transceiver this is a good trip to bring it on.
The following link takes you to an automatically generated HTML version of an Excel spreadsheet of our navigation track. Unfortunately these automatically generated files are somewhat hard to read. I will provide an Excel printout which is much clearer and easier to read. We will only need this much detail if we are touring in a blizzard.
---
Weather

Anticipated weather includes anything from somewhat warm and sunny conditions to very cold, wet, windy blizzard conditions. The weather can be severe. Pack clothing accordingly. Because we are skiing hut to hut, we must press on each day.

---
Meals
Group MealsGroup Meals
Hut breakfast & dinner are included in the trip but we have to carry and prepare them. I am open to suggestions for meals.
Individual Meals
Prepare your own: cold lunch, snacks, & hot lunch drinks if desired, you may want to carry a small thermos
---
Equipment you will need
(* Indicates Required Equipment)
As we will be traveling in remote Colorado backcountry in winter; stringent equipment requirements are necessary. You will need:
Ski Gear
*Ski goggles, backcountry or telemark skis, boots, bindings, poles, and climbing skins
Clothing
Warm, sunny weather
*Sun glasses, sun block, visored hat or bandanna

Severe weather
*Heavy wool or fleece hat or balaclava
*Ski mask or scarf for your face
*Medium to heavy, wool or fleece, gloves or mittens (2 pair)
Light liner gloves
Mitten shells
Gaiters
*Wool or fleece sweater or jacket (2)
*Synthetic pants
*Long synthetic thermal underwear tops and bottoms
*Rain suit or shell top and bottom

Absolutely no cotton clothing in this category! Everything must be wool, fleece, or synthetic.

Pack
*3/4 or full sized internal frame pack, with a hip belt, should fit you comfortably. Approximately 3000 to 5000 cubic inches. External frame packs will not allow you to swing your arms when we are touring, also the frame will get hung up in the trees. The pack must not move around while you are skiing. Load lifter and sternum straps help a lot.

Map & Compass
*Everyone must carry topographic maps and a compass readable to 1 degree.

Miscellaneous Gear
*Sleeping bag, rated to 15° to 20º F
*Flashlight , extra bulb, & extra batteries (headlamps work well)
personal toilet gear
toilet paper & trowel (only necessary for the trail, supplied at huts)
first aid kit (include iodine water purification tablets)
blister supplies
*any necessary prescription medication
*glasses if you need them to read maps
*2 quart water bottles
you may want to carry water in an insulated water bottle cover
Emergency Bivouac Gear
*bivouac sack or 3 large, plastic garbage bags
*sleeping bag pad

Optional Equipment
camera, extra film and batteries
cards or light weight games
light reading
binoculars
GPS receiver
ham radio transceiver
light weight shoes or slippers to wear in the hut

Keep the weight and volume as low as possible. Try to make items do double duty. Only bring items you are sure that you will use. A heavier pack makes it harder to ski and slows you down.
Equipment you DO NOT need
tent, stove, cooking utensils, eating utensils, water filter

---
Packing Your Pack
Put things that you might need quickly or frequently in outside pockets: maps, compass, water, snacks, rain gear, gloves, sunglasses, etc. For efficiency pack the heaviest items close to your back and up high for men, somewhat lower for women. You want the center of gravity of the pack to be close to the center of gravity of your body. A properly fitted, adjusted, and packed pack will move with you. You should not be fighting it. For skiing you want the center of gravity of the pack to be somewhat lower than for backpacking.

---
The Huts

These are primitive, but attractive, remote mountain huts. The only way to get there is on foot or skis. They include single or double bunks and pillow for each person. You only need to bring a sleeping bag. Two wood burning stoves are normally provided, one for cooking and one for melting snow for water. All cooking and eating utensils are provided at the hut. An outdoor privy with toilet paper is also provided. Unlike the AMC huts in the White Mountains, you cannot buy anything at the huts, you must bring it with you. These huts are not "manned" or "womaned", we have to do everything. All cooking and drinking water comes from melted snow. Keeping the snowpot cooking will be one of our hut jobs. Always use clean, white snow for drinking water, avoid the top and bottom of the snow pack.
We have reserved 10 of the 16 spaces at the two huts. Because there will probably be at least one other group staying at the hut while we are there, we will have to cook group meals for breakfast and dinner. This is to allow using the one cook stove efficiently for everyone. Each participant must provide their own cold lunch and snacks to eat on the trail. A small thermos can be used to carry a hot beverage if you like - it could be shared by several people if desired..
After arrival at the hut, and before departure, we will have some hut chores that we must do. Everyone is expected to participate. A detailed checklist of what has to be done will be provided later.
---
Hut Chores
Post our reservation on the bulletin board
Start the wood burning stove for heating & melting water
Fill the snow pot for drinking water
Start the other stove when necessary
Turn on the solar powered electricity
Bring in firewood
---
Shuttle Vans

We will drive to the Norrie trailhead and meet the shuttle van which will take us back to the starting point which is the Hunter Creek trail head. We will ski to the Norrie trail head and get our car.

---
10th Mountain Division Hut Association

1280 Ute Avenue, Suite 21
Aspen, CO 81611
970-925-5775
Buy maps and guidebooks from them.
---
Maps
10th Mountain Hut Association topographic map #1, Bald Knob, and map #2 Mount Yeckel, covers McNamara Hut, Margy's Hut, and relevant trailheads. You will need both of these maps. Map # 1 has been replaced with Map # 10, Smuggler Mtn. The Bald Knob map is actually better for our purposes as it shows more detail around Margy's Hut. This map should be available for free since it was discontinued. You must buy the WINTER maps.
Guidebooks
1. Colorado 10th Mountain Huts & Trails, 3rd Edition, Louis W. Dawson, Who Press, Aspen, CO, $19.95.

This book covers the 10th Mountain system exclusively and is the recommended reference for this trip. It probably has the best trail head access descriptions.
2. Colorado Hut to Hut, 2nd Edition, Brian Litz, Westcliffe Publishers, Englewood, CO, $24.95.

This book covers all 12 hut systems in Colorado, a total of 56 different huts. Beautiful color photography, and good descriptions of each hut and all trailheads. An excellent alternate to the book by Dawson. Includes more avalanche information.
3. The Hut Handbook, Leigh Yule & Scott Toepfer, Westcliffe Publishers, Englewood, CO, $12.95.

Also a good book but one mostly covering the "generic hut experience". The two previous guide books each cover this somewhat.
Reference Books
1. Backcountry Skier, Jean Vives, Human Kinetics, Champaign, IL, $18.95.
This is an excellent, and brand new book which covers all aspects of backcountry skiing.
---
Cost

Estimated cost is $735.00, per person. This includes: airfare, hut reservations, motel reservations, breakfast and dinner while in the huts, car rental, and shuttle vans. It does not include lunches & snacks while on the trail, any motel meals, any ski gear rental, any lift tickets, books & maps, and any necessary gear that you don't currently have. The estimated cost of $735 is predicated on getting ten participants which is the minimum number for the reduced airfare. If we have less than ten, which seems likely at this point, the airfare could increase by up to $88 per person bringing the estimated total to $823 per person. Non SCWDC members must pay an additional $30 nonmember fee - for about the same price you can join.

---